Platform for learning and development for Mondelēz Team
Mondelēz International, Inc. is a global powerhouse, inspiring people to indulge in wholesome snacking experiences across more than 150 countries worldwide.
At the forefront of the snacking industry, Mondelēz leads the way with a captivating array of iconic brands, both globally recognized and cherished locally. Delight in the delectable tastes of OREO, belVita, and LU biscuits, savor the richness of Cadbury Dairy Milk, Milka, and Toblerone chocolates, relish the playful sweetness of Sour Patch Kids candy, and enjoy the refreshing satisfaction of Trident gum.
With an unparalleled portfolio of irresistible snacks, Mondelēz International, Inc. is dedicated to bringing joy and fulfillment to snack enthusiasts everywhere.
Mondelēz International, Inc. has undertaken an ambitious initiative to create a centralized hub, dedicated to elevating the knowledge and expertise of its Research, Development & Quality (RDQ) teams in the realms of marketing, business, and R&D best practices.
To ensure the relevance and responsiveness of the platform, a dedicated video series has been meticulously crafted, covering both current and emergent business needs within the RDQ community. A captivating launch campaign, complete with engaging emailers and an enticing trailer, will herald the arrival of this transformative platform, fostering new perspectives and innovative ways of thinking among the RDQ teams.
Through this innovative hub, Mondelēz International, Inc. is steadfast in its commitment to empowering its RDQ teams with the latest knowledge and best practices, enabling them to stay at the forefront of the industry and drive unprecedented success for the company.
Cloud Converge joined forces with Design Bridge to craft an immersive and enticing environment that prioritizes user engagement. Rather than imposing content on employees, the focus was on creating a SharePoint site that "pulls" people in, captivating them with its seamless integration of Microsoft Stream for video incorporation within the intranet site.
Inspired by the idea of a 'Netflix' experience, Design Bridge proposed a user-centric approach that grants employees the freedom to consume learning content at their own pace. Each module was thoughtfully divided into easily digestible 3-4 minute bite-sized video clips, mirroring the style of popular content platforms like TED or Netflix.
To promote a continuous learning journey and a familiar interface, the UX & UI were meticulously designed and developed. The goal was to maximize user experiences and ensure the hub felt intuitive and user-friendly. Not stopping there, the team went above and beyond to enhance the learning experience in multiple ways: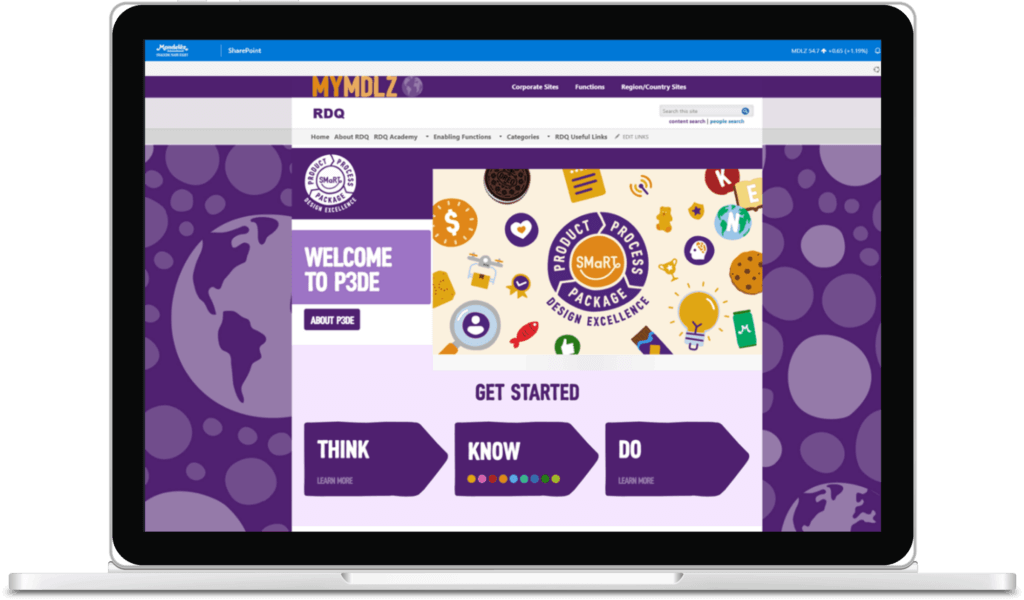 The hub seamlessly integrates into the existing SharePoint 365 space, effortlessly accessible to all employees on a global scale.
REFERENCES: Users have the convenience of accessing supplementary content and downloadable resources to enrich their learning.
TRACKING: The platform was carefully designed to provide users with clear progress tracking, allowing them to keep tabs on their watched content and identify what to explore next.
MOBILE FRIENDLY: Recognizing the importance of accessibility, the platform was optimized for mobile devices, enabling employees to enjoy video content while on the move.
Through this collaborative effort, Cloud Converge and Design Bridge have succeeded in creating a compelling hub that not only elevates learning but also empowers Mondelēz International, Inc. employees to embrace a transformative and enjoyable learning experience like never before.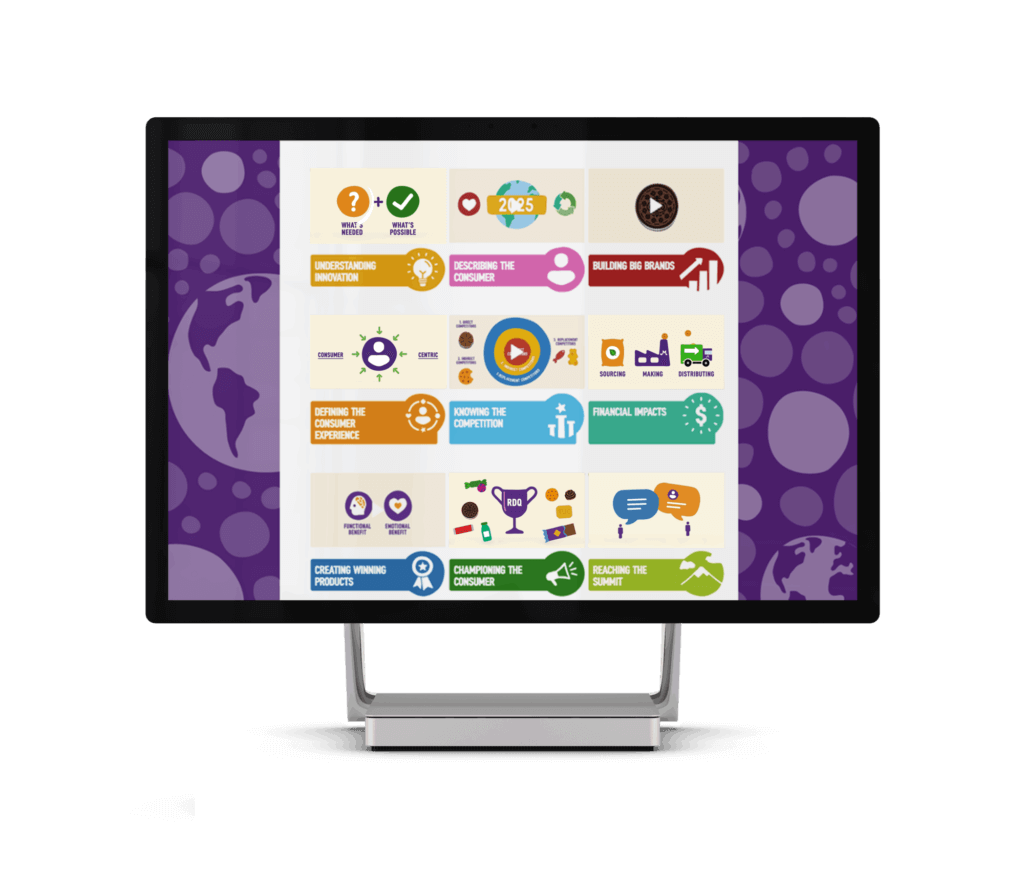 The results of the collaborative effort between Cloud Converge and Design Bridge have been nothing short of remarkable. The learning hub, enriched with captivating content, has garnered significant traction and praise within the Mondelēz International, Inc. community.
With a powerful trailer, 17 engaging interviews, and 47 meticulously developed videos and scripts, the hub boasts over 100 graphic animations, culminating in an impressive collection of over 3 hours of valuable content.
In the first 3 months following the launch, the hub has been a resounding success:
More than 3,000 sessions have been logged, indicating a strong and enthusiastic interest in the platform.

A staggering 26,500+ page views underscore the content's appeal and relevance to the RDQ community.

An average of 8,600+ views per session speaks volumes about the hub's ability to retain and captivate its audience.

The platform's value is further affirmed by over 1,600 repeat visitors, emphasizing its impact on continuous learning.

On average, each session sees users spending an impressive 16 minutes and 9 seconds, showcasing the hub's ability to hold attention and deliver meaningful insights.
The accolades from Mondelēz International, Inc. speak volumes about the product's success. The team's satisfaction and positive internal feedback have been overwhelming. In fact, the hub's excellence was recognized at the big innovation event, where it was chosen to be presented in front of the Mondelēz International, Inc. CEO and executive team.
The learning hub has undeniably become a beacon of knowledge, empowering the RDQ community within Mondelēz International, Inc. to thrive and excel in their roles, while also promoting a culture of continuous improvement and professional development.