SharePoint Solution for Santen Pharmaceutical
Santen Pharmaceutical stands as a prominent global specialist ophthalmic pharmaceutical company, serving more than 60 countries and employing over 4,000 professionals worldwide. Their unwavering dedication to advancing eye health and ensuring the availability of beneficial treatments to patients and healthcare systems underscores their passion for making a positive impact in the field.
Santen's "In Service of Patients" initiative is dedicated to comprehending patients' habits and requirements, with the ultimate aim of delivering improved services and products. This mission seamlessly aligns with Santen 2030, the company's vision to bring happiness through enhanced vision and alleviate the socio-economic impact of eye-related issues.
To support this noble cause, the current "In Service of Patients" site utilizes SharePoint Online. However, recognizing the significance of the initiative, Santen identified the need for enhancements to make the site more engaging and user-friendly for its dedicated employees.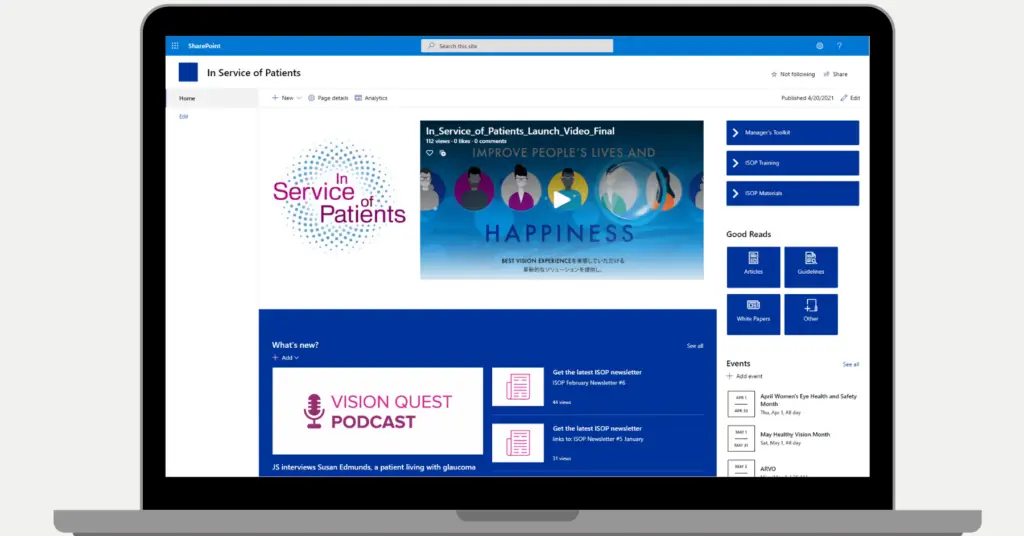 In close collaboration with the Client's team, we identified that Santen's optimal solution would be a SharePoint Online-based platform. Together, we pinpointed the essential features necessary for the project's success:
Employee Engagement: Our goal was to create an interactive platform that enables employees to actively engage with the content.
Brand Alignment: To maintain a cohesive brand image, we designed the site to harmonize seamlessly with Santen's corporate identity.
Content Hosting: The site's functionalities encompass hosting various content types, including a comprehensive digital resource library, engaging videos and animations, a dedicated 'What's New' section, and a management toolkit.
Tag-Based Content Filtering: We ensured an efficient content organization with the ability to filter information based on relevant tags.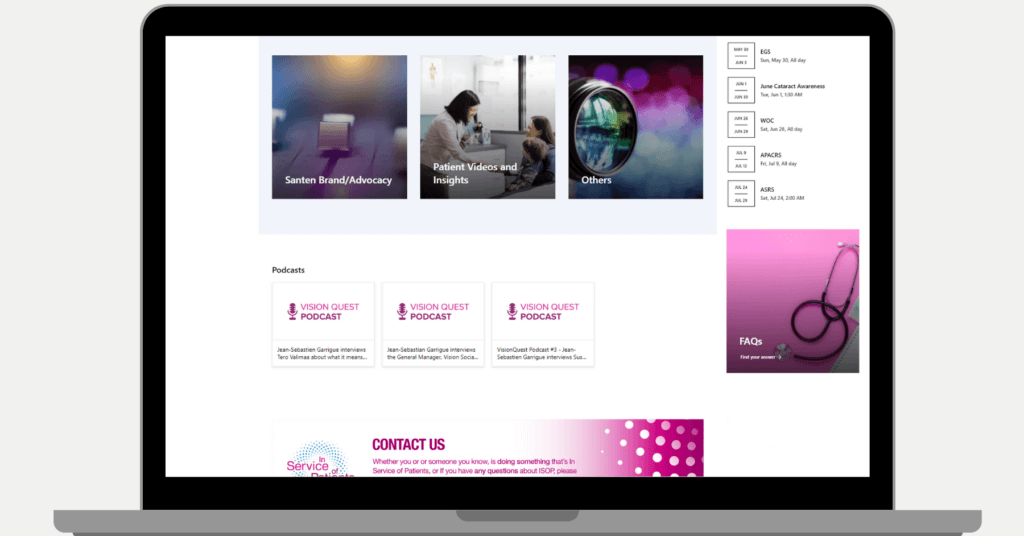 With these requirements in mind, we proposed a well-organized, functional digital library. Our vision for this library was to encourage regular utilization of training and development resources, fostering increased interest from Santen employees in the Santen Patient Centric program. Rather than being a static archive, the digital library should serve as a living SharePoint, continuously updated with fresh topics, news, and shared information to foster dynamic engagement among employees.
The results after the site's launch have been remarkable, with significant improvements in engagement:
Unique Viewers: There has been a staggering 166% increase in the number of unique viewers accessing the site, indicating a substantial rise in interest and reach.
Site Visits: The site has experienced a notable 95% increase in overall visits, with a total of 1,962 visits recorded since 2018. In the last 30 days following the revamp, it has received 1,115 visits, demonstrating a surge in user traffic.
Average Time Spent: Users are spending an impressive average of just under 3 minutes on the site, highlighting the engaging and compelling nature of the content.
Popular Area: The new media library has emerged as the most popular section of the site, attracting the highest level of user interest and interaction.
These results underscore the success of the site revamp, with increased viewership, engagement, and an improved user experience contributing to a more vibrant and thriving platform.